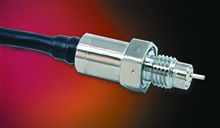 MAKS-8FRT(X)
Ultraminiature 5V Output High Temperature Pressure Transducer With Integrated Temperature Sensor
The MAKS-8FRT(X) is one of the newest generation of Kulite's smallest miniature amplified transducers currently available. The sensing sub-assembly is protected from
mechanical damage by a protective screen, which has been shown to have minimal influence on the frequency response of the sensor.
Incorporation of Kulite proprietary high temperature 392°F (200°C) electronics within the main body allows for operation from an unregulated power supply of 8 to 16VDC.
Features
Smallest High Performance Amplified Transducer Worldwide
High Temperature Electronics 392°F (200°C)
Rugged Design Provides Compatibility With Most Conductive Media
Patented Leadless Technology VIS®
High Over Pressure Capability
Adaptable For A Wide Variety Of Applications
Designed and Engineered For Severe Environmental Conditions