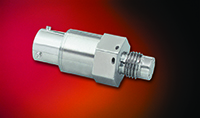 HEM-375(M) CO
Miniature High Temperature Pressure Transducer
The HEM-375 is a miniature threaded pressure transducer. The hexagonal head and o-ring seal make it easy to mount and simple to apply.

The HEM-375 utilizes a flush metal diaphragm as a force collector. A solid state piezoresistive sensing element is located immediately behind this metal diaphragm which is protected by a metal screen. Force transfer is accomplished via non-compressible silicone oil. This sensing sub assembly is welded to a stainless steel body. Use of high temperature materials allows for use at temperatures up to 450°F (232°C).

This advanced construction results in a highly stable, reliable and rugged instrument with all the advantages of significant miniaturization, excellent repeatability, low power consumption, etc. The miniaturization process also yields a marked increase in the natural frequencies of the transducers, making them suitable for use in shock pressure measurements and blast pressure wave studies.
Features
Wide Temperature Capability – 65°F To 450°F
Excellent Stability
All Welded Construction
Robust Construction
Silicon on Silicon Integrated Sensor VIS®
High Natural Frequencies
3/8-24 UNJF or M10 X 1 Thread